HID 1326LSSMV Clamshell Cards for Your Company Identification Cards
<!-- p { margin-bottom: 0.21cm; } -->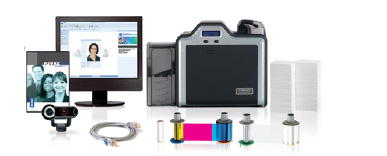 There are many companies and facilities that require their employees and visitors to wear either identification or access badges to ensure the safety of everyone in the building. When it comes to gaining access or providing a photo ID for your company employees, there are various options from which to choose.
For companies seeking ID cards that are used for high security situations, a common option is 1326LSSMV Clamshell Card from HID Corporation. This is a proximity card that comes with a hard clamshell type architecture that is reliable and protected. In fact, the shell is so durable that these cards are unaffected by body shielding or extreme environment conditions. This helps the card stay consistent in read range, which is why many prefer this type of card. The clamshell card has the best read range of any HID passage proximity credential. However, this is not where the benefits end.
While there are several different styles of cards from which to choose, the 1326LSSMV proximity card from HID is not only durable and resistant to impact, but convenient in size as well. Having an ID card that is convenient for employees to wear is essential. With this clamshell card, a pre-punched slot hole is already provided for attaching a lanyard, badge clip or any other type attachment that lends itself to visual identity.
Proximity technology is an advantage over other non-technology badges in that the card capabilities come with more than 137 billion unique code options. Also since they are passive - and not created with a battery design like some security code options - a virtually infinite number of reads can be used on the card. In fact, ID ENHANCEMENTS, INC. offers a LIFETIME WARRANTY on every proximity credential.
With features like this, one can see why the 1326LSSMV HID Clamshell Proximity Card is one of the top choices for companies around the globe. From labs and hospitals to schools and virtually any company in between, this is a popular option for an access control card.
These sophisticated cards can't be found just anywhere, you need a reputable source – and a source that knows the technology and can provide them in a timely manner. This is why many people turn to ID ENHANCEMENTS, INC. This identification card company provides the largest selection of access control credentials in the industry – and offers the only SAME DAY processing for credentials in the country.
In addition to the access control cards themselves, ID ENHANCEMENTS, INC. provides a complete one-stop shopping experience for identification products by offering a wide selection of badging equipment and supplies to compliment the access control credential. Products include: ID Card Printers, Printer Ribbons, Badge Holders, Badge Clips, Lanyards, and more.
Utilizing a one-stop shopping source for your 1326LSSMV Clamshell Proximity Cards, you can source everything you need at one location.

ID ENHANCEMENTS, INC. is an industry leading identification card retailer that provides a complete line of ID Equipment and Supplies with an emphasis on custom access credentials, including the 1326LSSMV Hid Clamshell Proximity Cards from HID Corporation. They can be found at Id-enhancements.com or Proximitycards.com.